Al Patrone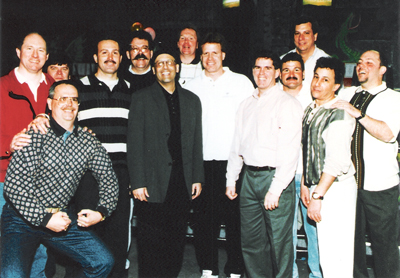 Alfred M. Patrone Jr. of Glen Mills who was raised in Springfield PA and a 1975 graduate of Cardinal O'Hara High School died of cancer at the age of 38 in April of 1996. When his group of friends heard he was sick, they organized a fund-raiser that they called `Friends for Friends (FfF).' More than 1,400 people showed up.
In the photo from this first FfF benefit held for Al on March 3, 1996 are from left to right: Mike Seifried, Marty Wusinich, Jim Martin, Mike Klick, Joe Grosse, Al Patrone, Jim Smith, Mike Brown, Bob Carroll, Pat Murray, Frank Long and Gary Orloff (Al's brother-in-law).
His wife of nine years, Sharon Kozisky Patrone, said her husband never complained about his illness. In addition to his wife, he was survived by three daughters, Breana, Gia and Tara.
In his last moments of life, Al thanked Bob Carroll, FfF's first and only president, for the fund raiser and their kindness in his time of need. Al made a special request that Bob and his friends continue what they started for others in need.
The tragedy of Al's death birthed an organization that has raised over one million dollars to simply help the friends.
Related Articles
Alfred Patrone Jr., 38; Began Footwear Chain »
Families In Need Benefit From 12 Childhood Friends' Bond When Cancer Hit One, The Others Raised Money. They Have Been Giving - To Strangers - Ever Since »